Hi and welcome
I am John Ward - the founder and the main walking guide of Exploring North Devon & Exmoor.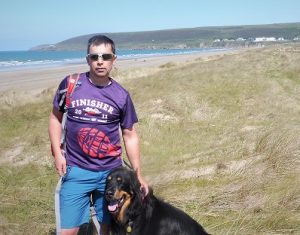 I am passionate about walking - the creativity and general wellbeing it inspires - and the feeling of connecting us to the landscape as we move through it. For me, the only other thing that can compare to walking through this wonderful landscape is by running it... but that's another story.
I live and breathe North Devon and Exmoor - its spectacular coast, the exposed remote moors and wooded valleys of Exmoor, the wildlife constantly on show, and its often colourful local history. To me, it all contributes to making this region unique - it has always punched way above its weight and I'd love nothing more than to be able to share its secrets with you... and clearly the best way of doing this is by exploring it on two feet.
Come and join me!
What we do
We specialise in offering guided walking breaks and tailor-made adventures within the wild beauty of the coastline and moors of North Devon and Exmoor.
For the guided walks, I will be there to lead you along our chosen path, to infuse the walk with tales about the scenery and local history as we pass by, whilst keeping you and your fellow travelling companions safe and on track - or indeed, off the beaten one.
Our main feature holiday is a 7 night stay with 5 days of guided walking. There is no need to despair if you cannot commit to a full week with us, as we will always do our very best to organise day walks and weekend breaks to suit you and your group's requirement. We welcome all sizes of groups, from singles and couples on up to bigger private and mixed groups. We will always do our best to meet your requirement. Find out more on our Guided Walks page.
You will experience the best of the footpaths, tracks, trails and the South West Coast Path as well as the open country of Exmoor. We will get away from the crowds and will walk at a pace tailored to you and your group.
Why North Devon & Exmoor?
Get it right and the sheer variety this wild and beautiful region offers will beat any foreign holiday hands down. That's why we think local knowledge and expertise is key in helping to make this a reality for you.
Authentic and memorable adventures are there to be had in North Devon and Exmoor, and for us that means embracing the spirit of exploration through an immersive walking journey through some of the very best coastline and moorland scenery in all of England.
The North Devon coast retains a feeling of remoteness and is a truly spectacular section of the South West Coast Path and offers such rare diversity - from dramatic sea cliff paths traversing windswept headlands and wild heathlands, to old smuggler villages nestled within sheltered coombes, to stunning sandy dune systems and award winning beaches.
Exmoor is a romantic wilderness - characterised with deep wooded valleys, or "cleaves", cutting through the high rolling moors to eventually meet the sea by way of the highest sea cliffs in all of England, affording fantastic views across the Bristol Channel to the distant South Wales coast.
At the end of a great day out, relax, soak up the views and sample the fantastic local seasonal food and drink our region has to offer - all at the comfort of your chosen place to lay your head for the night.